Salam and hello to all WSB! Lucu juga ya bila baca komen-komen sebelum ni. Ya, bagi yang betul-betul mengikuti topik kita ni, mesti memang sudah tahu ceritanya kenapa tajuk topik kita ni ditukar. Apa pun, kita ambil yang baik dan jadikan yang buruk itu sebagai pengajaran.
Jadi, teruslah kita ke topik utama kita
Ciri-Ciri Web Design Yang
Kurang Baik
untuk
part yang ke-4
iaitu
TEMPOH LOAD PAGE YANG SANGAT LAMBAT.
Memang rata-rata WSB kita adalah pengguna broadband untuk connect internet dan selalunya 'kuasa kuda' broadband tu tidaklah seberapa laju. Oleh yang demikian, kita haruslah menitik beratkan ciri-ciri ini untuk memudahkan para pengunjung kita dan kita sendiri.
Antara
punca-punca utama
yang menyebabkan
tempoh
load page
ni
sangat lambat
ialah:
Penggunaan background yang bersaiz besar (tak kiralah saiz fail atau saiz gambar tu)
Penggunaan widget yang sangat banyak
Link-link iklan yang telalu banyak
Header blog yang sangat besar
Mari baca lebih lanjut...
Background
Elakkan menggunakan
background
yang besar contohnya seperti ini: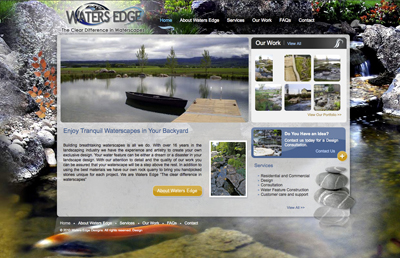 Huih..besarnya imej background dia...Memanglah dia boleh guna sebab dia guna kelajuan internet yang tinggi
Oleh itu caranya, adalah lebih baik kalau anda memilih teknik pengulangan dengan menggunakan imej kecil dan diulang sehingga menjadi satu corak. Contohnya:
Hai! Selamat Datang ke Blog Saya!
Ini contoh background yang menggunakan teknik 'Pengulangan Imej'. Nampak macam 1 gambar corak papan, kan! (lebih kurang la...kalau mahu lebih cantik, kena cari yang lain. Ini untuk contoh ja)
Hai! Selamat Datang ke Blog Saya!
Bila imej itu tidak di'ulang', ia akan kelihatan seperti ini.
Bingung macam mana mau buat begini? Boleh buka tutorial di
SINI
. Tapi langkah yang paling mudah, kamu boleh tentukan
settingnya
di layout design yang telah blogspot tentukan. Semua tau, kn?
Semua tahu, kan dimana letaknya setting ni?
Penggunaan widget sangat banyak
Widget
memang comel dan cantik tapi sebenarnya ia juga adalah penyebab kepada kelambatan blog anda untuk siap
loading
kerana
platform Blogspot kita ini perlu memanggil bit-bit (coding) widget itu dari laman web asalnya untuk di 'cerminkan' semula ke laman blog anda
. Oleh yang demikian, 'kuasa kuda'
broadband
anda amat diperlukan untuk mempercepatkan proses memanggil bit-bit itu.
Kalau
widget
itu anda sememangnya diperolehi dari platform Blogspot yang telah sedia ada, ia tidaklah seberat mana kerana
widget
itu sudah sedia ada dalam 'rumah'nya.
Widget / Gadget yang sedia ada dalam blog lebih laju di 'load'.
Berbanding dengan widget / gadget yang diambil dari laman-laman web luar, ianya lebih lambat loading.
Link-link iklan yang terlalu banyak
Sama seperti kes widget, iklan atau ads memang memerlukan 'kuasa kuda' yang tinggi dari broadband anda untuk siap di loading kerana ia menggunakan teknik yang sama untuk memanggil bit-bit itu dari 'rumah' asalnya.
Tetapi memang ada segelintir dari kita suka meletakan iklan-iklan ini untuk mendapatkan $ 'sewa' dari iklan itu (betul ka boleh dapat?saya pun kurang arif pasal ni). Sekiranya anda masih mahu meletakkan iklan-iklan ini tetapi pada masa yang sama mahu menjimatkan masa untuk loading page, senang saja.
Pertama, kurangkan penggunaan iklan atau setkan iklan-iklan ini kepada text only ads. Ini adalah kerana, saiz teks adalah lebih kecil dari saiz gambar atau animasi yang banner-banner iklan ini selalu gunakan.
Contoh online ads banner yang menggunakan animasi / imej yang sememangnya bersaiz besar.
Contoh text only ads yang lebih kecil dan mudah loading
Header blog yang sangat besar
Header
memang sangat memainkan peranan penting dalam sesebuah laman web kerana ia adalah 'ruang tamu' utama untuk menjemput para pelawatnya. Sememangnya menggunakan
header
yang cantik dan menarik perhatian adalah amat digalakkan. Tetapi harus diingat, sekiranya ia terlalu besar, ia mampu melambatkan proses
loading
laman itu.
Memang cantik. Tapi perlu kelajuan broadband yang tinggi
Ni lagi cantik! Bukan pasal dia warna pink tapi saiz headernya kecil dan menarik bukan saja menjimatkan ruang, tetapi menjimatkan masa loading juga.
Sebenarnya ada banyak lagi sebab-sebab mengapa proses loading sesebuah laman web itu lambat tapi apa yang saya tulis pada hari ini adalah sebab-sebab yang paling utama. Kalau tulis semua disini, lambat loading nanti blog WSB kita sebab entry telampau panjang (hah, ni pun salah satu ciri juga).
Okey lah...Sehingga bertemu lagi di
entry
seterusnya!
Peace no War!
Sharing is Caring
Maaf kalau ada tersalah
atau terkasar bahasa