Welcome to all the newly registered Wasaber~ Thank you for your support towards Sabahan Bloggermania! It had reached 220 Follower! (last updated on 20th Nov at 3:16pm) We really appreciate it and a big round of applause for Wasaber! Woooohooo~
Big recent news for all Wasaber notification :
WSB had made a collaboration with a Sabahan Community widely known as
"Saya Bangga Saya Orang Sabah (SBSOS)"!!!
Yes, this is the same community that you seen at facebook and now they had established their own blog + make some collaboration with WSB!
As all of us are Sabahan, why not we support them as they had support us the same? After all, we are proud to be Sabahan!!! >_<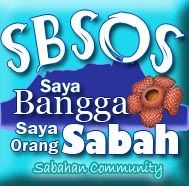 SBSOS logo
With this collaboration, maybe we could make a friendly futsal match in the future, agreed?
Let us get to know our fellow Sabahan friends!
The BOTM: Nova Edition is still open for entry! Hurry and submit yours :D